Do you want to grow your e-commerce brand, but aren't sure which tactics you should focus on? The key to long-term e-commerce growth is actually focusing on both acquisition and retention.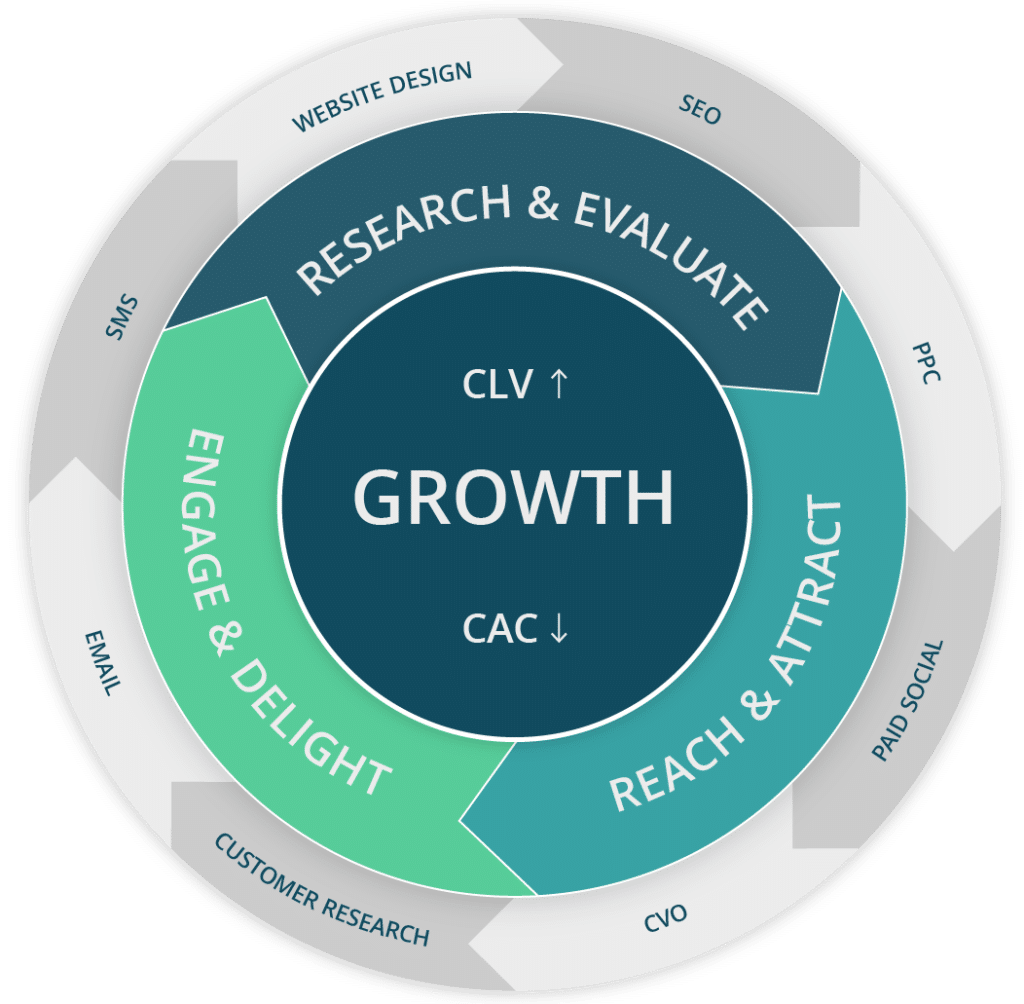 The traditional marketing funnel is flawed. Why? Because it stops after action. We believe everything that happens after the initial purchase is equally as important as everything that happens before the purchase. 
We focus on data analysis, acquisition marketing, and retention marketing to increase Customer Lifetime Value (CLV) and lower Customer Acquisition Costs (CAC). 
When these strategies are actively engaged, and when the tactics that support them work together, they form a flywheel that continues to build momentum and speed to accelerate the growth of your e-commerce brand.
We help e-commerce brands scale by increasing the lifetime value of customers and acquiring new customers for cheaper.
The first thing we do is focus on marketing fundamentals. This includes calculating CLV, Break-Even ROAS, and CAC to benchmark and set goals. We also survey and interview your customers, segment them based on value using RFM Analysis, and create customer profiles based on real data.
With customer profiles based on real data, we create a unique omnichannel strategy for your brand, specifically designed to acquire more high value customers. Because we have clarity on who your high value customers are, and how to speak to their pain points effectively, we're able to acquire new customers for less.
We use retention tactics such as upsells, cross-sells, email marketing, SMS, loyalty programs, etc. to delight your new and existing customers with personalized value that effectively builds loyalty between your brand and your customers, increasing your customer lifetime value.
Increase customer lifetime value
Using customer research, data analysis, and retention marketing strategies, we can increase the lifetime value of your customers by delighting them and providing them with the necessary value that they need before they are willing to spend more with your brand.
Lower customer acquisition costs
Insights that we gain from doing customer research and focusing on retention marketing have a profound effect on customer acquisition costs. Because we're able to identify which segments of customers are the most valuable and collect data points on high value customers, we can effectively our customer acquisition costs by being more focused on new customer targeting.
Request a free consultation