SEARCH ENGINE RANKING: WHAT IS IT?
Search engines such as Google, Bing, and Yahoo show search results based on a search query input by the user. Based on the search query, the search engine ranks the results based on what it believes to be the most relevant. But how do search engines rank the results? What makes one search result more important than another? This process is something we call the search engine algorithm. It's important to know how a search engine ranks web pages so we can optimize them for the highest rank possible.
CONTENT RELEVANCE
When it comes to SEO (Search Engine Optimization) and search engine ranking, it is essential to understand the way Google performs website ranking or how Google works. Google's role as a search engine is to generate the most relevant content in response to search queries from their users. Search engines put a lot of emphasis on the content of a website, because they want the content to be as relevant as possible.
A search engine will analyze all of the words and phrases on a website and create a map called a semantic map that helps the search engine understand how to match web pages with corresponding search queries. It is important to have a web page that had easy navigation as well as unique content. When you're looking at a search engine list or Google ranking, relevance of content plays a huge role. Search engines are essentially trying to rank websites by web content relevance, and that's partially how SEO works. Pictured below is an example of Google's site ranking in response to the search query of "website ranking".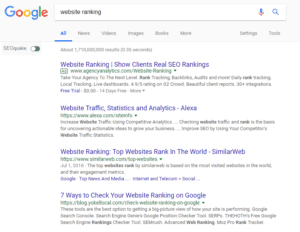 It is good SEO practice to do some research and plan out what your audience is going to be searching for and identify relevant keywords. When creating content, you can optimize your search engine performance by including a high density of keywords in web content so that the search engines rank your content/web page as the most relevant.
WEB PAGE NAVIGATION
The site architecture of a web page and how the different internal pages are organized plays a significant role in Google search ranking. Search engine crawlers and indexing programs analyze the content of every web page that they can find based on the raw HTML form of the web pages. Keyword relevance comes into play here as well, because a lot of web developers only focus on what is visible by users and not what's visible in the HTML form when a search engine like Google crawls the web. The software used is very mechanical and can only understand portions of most web pages.
It is very important to bake in relevant keywords into the titles, headings, text, and images of the pages so it is easily understood via HTML. Simply inspecting the code of your web page in HTML could have a profound affect on how your site ranks on a search engine ranking. In addition to HTML, search engines also look at the site's meta description. Although the meta description isn't actually used as a website ranking tool, it can have a significant influence on how many clicks you get on your page by increasing your Click-Thru-Rate (CTR).
WHAT SEARCH ENGINES CANNOT SEE
Not only do we need to pay attention to what search engines see in the HTML coding, it is also important to note what they cannot see. Although search engines can see images, they are unable to depict what a particular image contains. This being said, it is very important to include actual text in lieu of images on your web page. Furthermore, since search engine ranking is merely based on relevance of site content, it is important to tell the search engine what every image actually is. This is done through including image descriptions and alt tags in the HTML code. Alt attributes are primarily used to give the user an idea of what an image is when it can't be loaded properly, but the search engine actually uses this information in search engine ranking.
NEED SEO HELP?
I hope you found this post informational and helpful. However, unless you're a professional web optimizer or digital marketer, you probably need some help getting more traffic on your site. Our Utah SEO services are proven to provide real results for your clients, or their money back. Click here to learn about how Ranksey can help you with your SEO!