Customer loyalty and retention are becoming increasingly important for long-term growth. When you put the right retention strategies in place, it strengthens customer loyalty and helps you achieve this long-term growth you're looking for.
There are many retention tactics and strategies that can be applied to reach these goals. Email marketing is usually what brands have in mind when focusing on retention, but SMS marketing is becoming increasingly popular because of how effective it is in increasing Customer Lifetime Value (CLV). In this guide, we'll SMS marketing strategies you can use to increase CLV.
What is SMS Marketing?
SMS marketing, also known as text message marketing, is a marketing strategy that involves sending text messages directly to your customers' mobile devices. SMS marketing strategies deliver messages with a variety of valuable content to your customers, such as order confirmations, shipping and order updates, sales and discounts, and other promotions and alerts.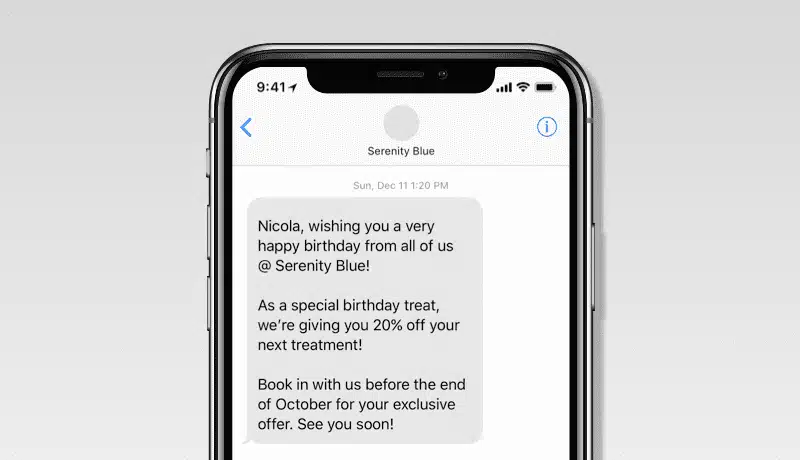 Image Source: SmartrMail
How Effective is SMS Marketing?
SMS marketing strategies have one of the most effective channels because it allows you to directly interact with your customers. The average open rate for SMS messages is 98%, which is much higher compared to emails, which have an average open rate of 20%. Your text messages have a high likelihood of being opened by your customers, so when you reach them with the right message, you can generate great results for your promotional campaigns. 
How to Increase Customer Lifetime Value with SMS
Customer Lifetime Value (CLV) is an important metric that measures how valuable your customers are. It takes a few key metrics into account, including Purchase Frequency and Customer Lifetime, which are retention-based metrics. SMS marketing can help you increase your customer retention, which will, in turn, increase your CLV.  
SMS Marketing Best Practices
Below we'll walk you through some best practices to approach SMS Marketing in a way that will help you increase CLV for your brand.
Get an Opt-In
SMS marketing has a lot of regulations you must follow, and because of this, customers must explicitly opt-in and agree to receive text messages from you. Consumers are protected by these marketing restrictions with the Telephone Consumer Protection Act. Even if someone has signed up for your email list, and you happen to have their phone number in your CRM, sending them SMS messages violates these rules, and it could potentially lead to legal trouble.
Don't Spam
Text messages often get your customers' attention pretty fast, which is why it's important not to spam your customers. This includes not sending text messages too often, and for the messages you do send, make it worth their while. If they are giving you their attention, even briefly, it should be worth them checking their phone.
Make the Messages Valuable
Because you are able to grab your customers' attention quickly with text messages, the messages you send need to provide value. If customers are receiving a lot of messages that they don't find valuable, they will unsubscribe because it won't be worth their time to open your texts.
How to Collect Phone Numbers for SMS Marketing
Because of SMS marketing regulations, your customers must opt-in and agree to receive text messages from you. The best way to collect phone numbers for your SMS list is by adding a check mark that is already selected at checkout that clearly states that it is an SMS opt-in. You can also add this pre-selected check box when someone signs up for your newsletter or loyalty program.
SMS Marketing Strategies
SMS marketing has high potential when it comes to boosting your revenue and profits. With the right SMS marketing strategies implemented, you'll be able to increase customer retention, which will help your brand to grow.
RFM Segmentation for SMS
RFM segmentation is a crucial step to include in your SMS marketing strategies. RFM segmentation is the process of grouping your customers based on their purchase behavior. Their purchase behavior can be categorized by three different categories: Recency, Frequency, and Monetary. By segmenting your SMS messages by how your customers interact with your brand, you can create personalized messages and campaigns that have different goals in mind.
Promotional SMS Campaigns
SMS marketing provides a great opportunity to tell your customers about deals and promotions that you have going on. Sales are often found to be valuable to customers, so they will respond well to these types of campaigns.
To increase the effectiveness of your campaigns, you should add RFM segmentation into the mix. When you can identify which customers spend the most money with you and have a high Average Order Value, it might be worth it to send them a better deal to increase their likelihood of making a purchase. For example, for a segment that spends on average 50% more than everyone else, adding an extra 10% off could entice more customers from that segment to buy.
SMS Win-Back Texts
Creating customer win-back campaigns is one of the best SMS marketing strategies to improve your Customer Lifetime Value. With the help of RFM analysis, you'll be able to identify which customers used to be loyal and previously had a high CLV. Once you identify these customers, you can create personalized SMS campaigns that work towards bringing them back and recreating that relationship. 
Cross-Selling and Upselling
Cross-selling and upselling are one of the most effective SMS marketing strateiges to increase your customers' AOV and purchase frequency. You can utilize this strategy through SMS messages. Whenever someone makes a purchase on your website, you have the opportunity to send them a text with an offer that entices them to either upgrade their purchase or add onto their order before it ships. Additionally, you can push accessories and related products after they receive their orders. 
Abandoned Cart Flows
Abandoned cart flows are a popular email flow that reminds customers to finish the checkout process if they added something to their cart but didn't purchase. While this can push some customers to finish placing their order, you'll have much better odds of success by doing these flows through SMS, since the open rate is much higher.
How to Track Your Success
One of the important steps in SMS marketing is tracking the success of your campaigns and flows. A couple metrics you can track are unsubscribe rate and sales from SMS campaigns.
Unsubscribe rate is something you should keep a close eye on, because it tells you if people are getting annoyed by your messages, or just not getting any value out of them. If people are unsubscribing, it might be time to reevaluate your messages, and it might be a good idea to email them surveys asking why they unsubscribed.
The number of sales you get directly from SMS marketing is a great indicator of whether or not your promotional campaigns are working. If you find that you aren't gaining any traction from these campaigns, it might be time to rework your messaging, and maybe even tweak your segmentation.
Get Better SMS Marketing Results
If you use SMS marketing the right way, it can lead to an increase in customer loyalty. Higher customer loyalty will lead to higher CLV, helping you achieve long-term growth with your online store. If you're looking for help with SMS Marketing or maximizing your CLV, we offer Customer Value Optimization (CVO) services or you can request a free CLV Audit to receive some free, actionable strategies that you can use to increase CLV (including SMS strategies).