Your ability to measure and collect data from your website could be the difference between wasting a lot of money on your marketing efforts and getting a return on investment. Google Tag Manager (GTM) is the best way for you to measure actions on your website and optimize for better results with your marketing. However, using GTM can be quite daunting at first if you're new to it. In this guide, you'll learn the basics of how to use Google Tag Manager and understand how it works.
What is Google Tag Manager?
If you want to track conversions and metrics on your website, Google Tag Manager can be your one-stop platform for all your measurement needs. When you install GTM, you no longer need a web developer to install a conversion tag on your website. With GTM, you can quickly implement and update any measurement metric through predefined templates or JavaScript codes, making it the most flexible and convenient solution for sending data to Google Analytics or conversion tracking. 
GTM Containers Explained
A container is a collection of your website's tags, triggers, and variables within Google Tag Manager. It's the only code you need to install on your website, eliminating the need to install each piece of coding with a web developer. It's worth noting that while you can associate multiple containers with a single account, only a single URL can be associated with an individual container within the overall account.
GTM Tags Explained
A Tag is a code snippet used to execute on a specific location on your site. There are two types of tags: predefined templates or custom JavaScript code. Various kinds of tags are available, each with its own unique purpose. Typically, tags are used to measure metrics and send them to Google Analytics or any other third-party software to measure your data.
GTM Triggers Explained
Triggers are an action that is taken on your website. When activated, a trigger tells the tag it's associated with to fire. You can set up triggers for many different types of website actions, such as a specific page view, form submission, or button click. Each trigger you create can be used across multiple tags, so you don't have to create a new one every time. This makes it convenient if you happen to use the same trigger for two different purposes, such as conversion tracking for both Google Ads and Google Analytics.
Page View
When you use GTM, a page view trigger will execute whenever your website users visit a specific page. However, it's important to remember that the page view trigger does not necessarily count as a conversion, just in certain situations. Sometimes you will want a specific page view to be a conversion, and other times, you just want a tag on a page to fire.
For example, if someone views your Thank You page, you might want to count this page view as a conversion, since only people who converted will see it. However, for something like the Facebook Pixel tag, you want this tag to fire on all page views, but you won't consider this a conversion. Once the tag is fired, it will then start sending data to Facebook, where it will track conversions that you set up within the Meta Ad Manager.
Read More: Facebook Ads KPIs: Full Guide to Paid Social Metrics That Matter
Link Clicks
Link Click triggers fire when a hyperlink is clicked. You can set your trigger to send a conversion event to Google Analytics so that Google Analytics can measure how many times each link is clicked. It's important to note that this trigger does not differentiate between unique users or IP addresses. This means the same user can click the link multiple times, and each click will count as a new conversion event.
Form Submissions
Form Submission triggers are an alternate conversion event to Thank-You/Confirmation Page views. You can use this type of trigger if your form gives your users a confirmation on the same page and doesn't redirect to another page, or if you don't feel like creating multiple different confirmation pages in the case that you have a lot of different forms you want to track. Using this trigger will fire the tag every time the form is submitted based on different variables such as Form ID, Form URL, or any other unique properties each form has that you can differentiate them by.
Custom Events
Custom event triggers are specific actions taken on your website that are not tracked through standard measurement metrics. While custom events are uncommon from the standard conversion actions, they can be used to track specific actions like form abandonment. Monitoring an abandoned form lets you know which customer to retarget through other channels for the same product or services. This is just one of many scenarios one might need to use a custom event to track a specific action that many don't tend to track. With custom events, the possibilities are endless.
Variables Explained
Variables are dynamic placeholders that store and retrieve values when a trigger fires. When a trigger is fired, variables send specific information to the associated tag, allowing you to collect accurate data and measure metrics such as enhanced e-commerce purchases. Variables can be used to customize and modify tags, triggers, and other elements within GTM.
For example, whenever purchases are made on your website, you not only want to count the number of purchases made, but other variables associated with the purchase, such as the purchase value and the currency code, as these are data layers that are always recorded in purchase events.
Example: How to Set Up GA4 with GTM
Setting up a Google Analytics 4 (GA4) tag using Google Tag Manager is now easier than it was for Universal Analytics. You don't need coding experience or have to hire a web developer since the two platforms work together seamlessly with predefined templates. Once your GA4 property is set up, and Google Tag Manager container is created and installed on your website, all you need to do is acquire the Measurement ID from the "Data Streams" tab found under Admin.
Click the Admin icon in the bottom left of the screen.
Click Data Streams in the center Property column.
Click your websites GA4 stream.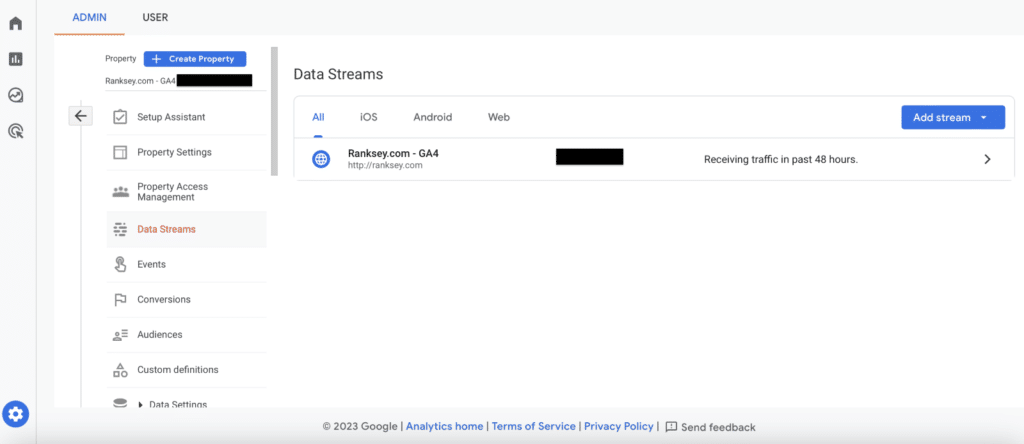 Now click the copy button to copy your Measurement ID (example G-99999999)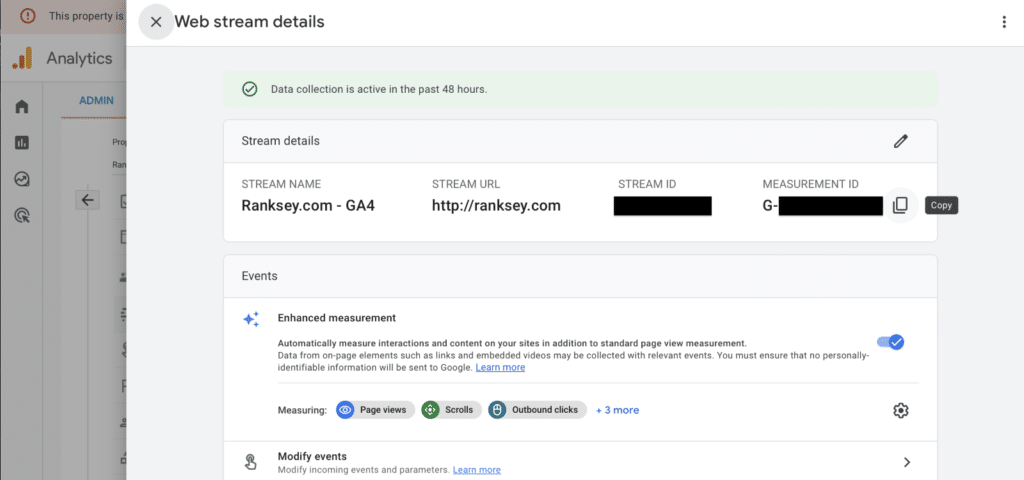 Head into Google Tag Manager.
Click New Tag button.
Click on the Tag Configuration section.
Click "Google Analytics: GA4 Configuration" from the predefined templates.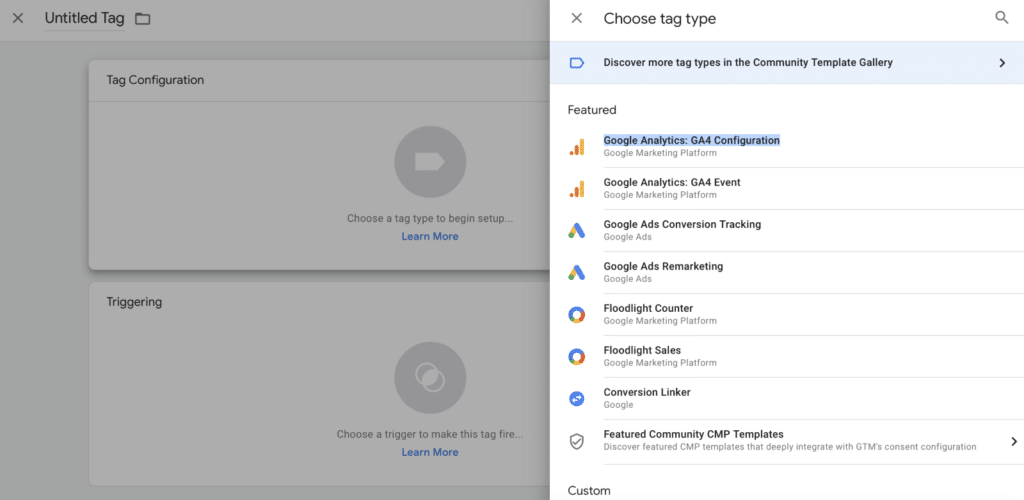 Paste your Measurement ID into the provided space. Leave the rest of the settings untouched.
Click on the Triggering section.
Select the "All Pages" Page View option.
Name your Tag and Save.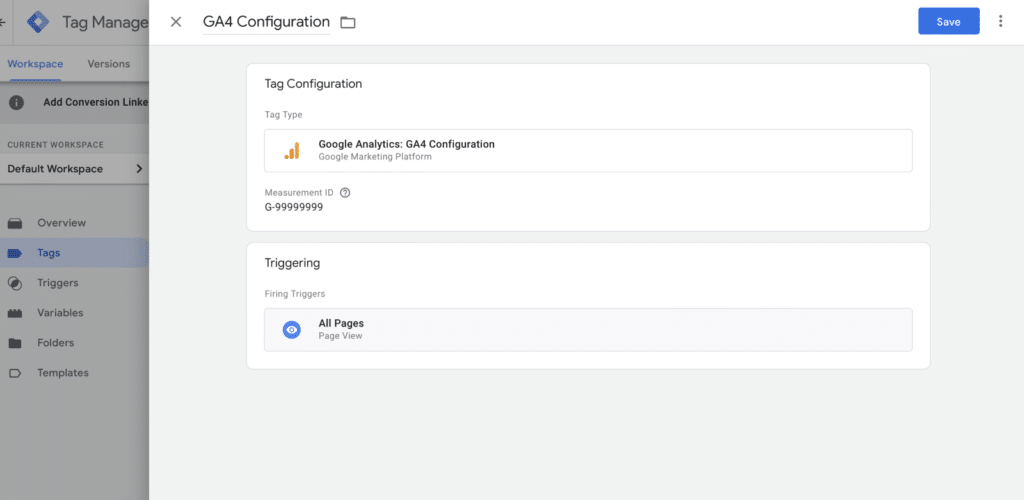 Finally, Submit the GTM Version with a descriptive name.
Testing the Tag: How to Use Google Tag Manager Preview Mode
Test that the tag is firing correctly by using the Preview option and your website URL. If the tag shows up under "Tag Fired" in your summary, then that means GA4 has been property connected.
When you click on Preview and enter your website's URL, it will take you to your website, but a small window will appear in the bottom right corner. This is the Tag Assistant tool.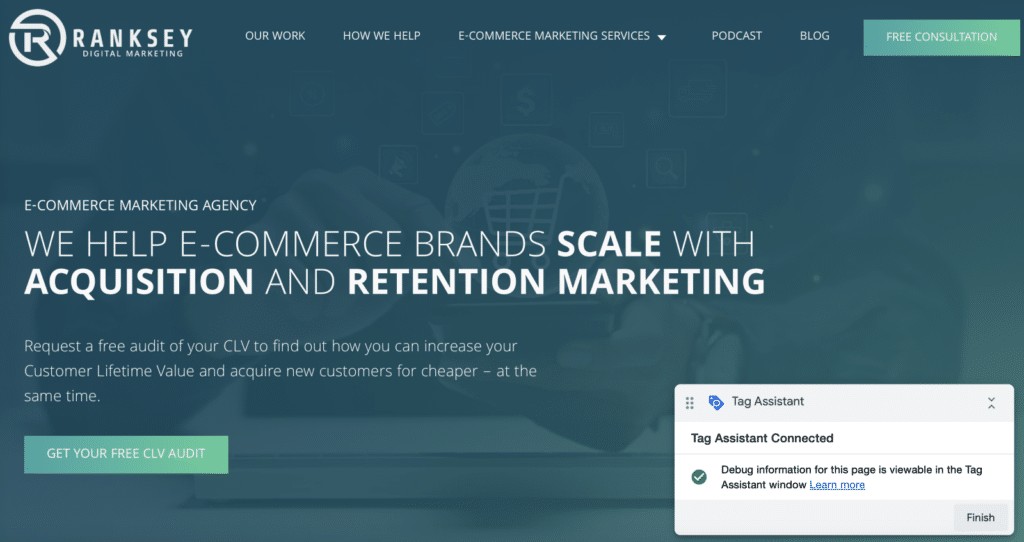 Next, select "Finish" and it will bring you to your summary.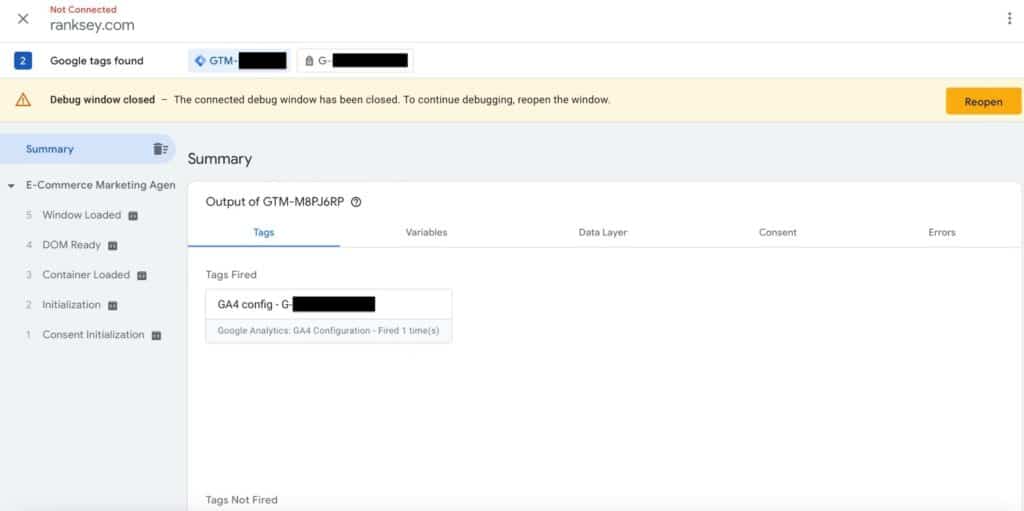 As you can see, under "Tags Fired," the GA4 Configuration appears. This means that it was correctly set up and will send data over to GA4.
Get Help With Google Tag Manager
Although the concepts of Tags, Triggers, and Variables may seem daunting at first, they can significantly enhance your website's data collection and analysis capabilities once mastered. As a GTM user, you can leverage Google Tag Manager to simplify your website's measurement tracking process, even if you have limited coding knowledge. Additionally, Google's predefined templates and community catalog make implementing third-party software on your website easier for collecting more granular data or integrating other platforms, like Facebook, with your website for conversion tracking.
If you're looking for some help getting Google Tag Manager set up for your website, we can help. With our E-Commerce PPC Management services, we assist our clients in making sure that conversion tracking is properly set up for success. Request a free consultation if you'd like to learn more about how we can help you.